26 listopada 2012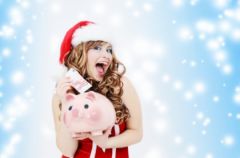 Wielkimi krokami zbliża się koniec roku, a co za tym idzie, również Święta Bożego Narodzenia i przedświąteczny szał zakupowy. Ludzie wydają mnóstwo pieniędzy na prezenty dla bliskich. Wzrosty sprzedaży notuje większość sklepów internetowych. Pierwsze ruchy, świadczące o wzrostowej tendencji, widać już w pierwszej połowie listopada. Wraz ze wzrostem sprzedaży, wyraźnie zwiększają się również zarobki partnerów.
Żeby nie być gołosłownym, przedstawię Wam kilka danych, które potwierdzą moje słowa. Poniżej przedstawiam wykres obrazujący zarobki partnerów Programu Partnerskiego Selkar w ciągu ostatnich 6 tygodni.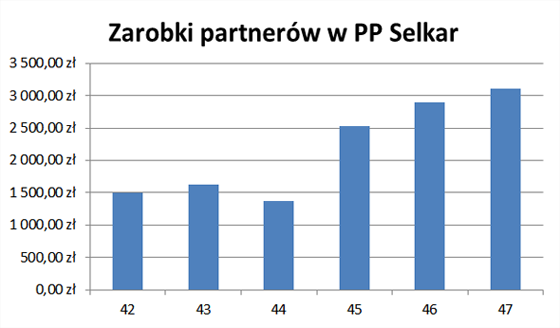 Na tym wykresie widać wyraźną tendencję wzrostową. W 47 tygodniu roku (19.11 – 25.11) suma zarobków partnerów była ponad dwukrotnie wyższa niż w 42 tygodniu (15.10 – 21.10). Między tymi tygodniami minął zaledwie miesiąc, a wyniki są kompletnie różne.
A tak to wyglądało dokładnie:
W każdym kolejnym tygodniu widać wyraźne wzrosty. Małą korektę zanotowaliśmy w 44 tygodniu (29.10 – 4.11) jednak później z ogromną dynamiką powróciliśmy do wzrostów. W 45 tygodniu (5.11 – 11.11), w stosunku do poprzedniego, udało się zanotować prawie 85% wzrost!
Skoro już w listopadzie notujemy takie wzrosty, to pomyślcie jak to może wyglądać w "najgorętszym" okresie zakupowym, czyli w grudniu. Najpierw Mikołajki, a później Święta. Zarobki partnerów PP Selkar powinny wzrosnąć jeszcze bardziej!
Książki najlepsze na prezent!
Widziałem ostatnio w jakimś serwisie informacyjnym ankietę dotyczącą tego, co jest najlepsze na prezent. Wiecie co było na pierwszym miejscu? Książki! Wykorzystajcie to!
Jaki jest cel wpisu?
Ten krótki raport ma na celu pokazanie, że weszliśmy właśnie w okres, w którym można bardzo łatwo zwiększyć swoje zarobki. Nie mówię tu o wzroście rzędu kilkunastu procent. Mam na myśli podwojenie lub nawet potrojenie swoich zarobków.
Zachęcam więc wszystkich do aktywnej promocji! Warto pomyśleć o dodaniu nowego wpisu na blogu czy aktualności w serwisie. Bardzo skutecznym narzędziem są newslettery – możesz np. polecić potencjalnym klientom wyszukiwarkę prezentów Selkar. Nie zaszkodzą też pewno dodatkowe bannery i linki. Im więcej zrobisz, tym więcej zarobisz!
Z doświadczenia wiem, że bardzo dobrą formą promocji jest również "osobiste polecanie". Możesz umieszczać na swoim facebooku, twitterze lub w komunikatorze internetowym informacje o ciekawych książkach, które idealnie nadają się na prezenty. Pamiętaj, by dodawać do takich rekomendacji swoje bezpośrednie linki partnerskie!
I nie zmienia się nic..
Pamiętacie, jak 2 lata temu pisałem o tym, że ostatnie 6 tygodni w roku to najlepszy okres dla partnerów? Jak widać w tej kwestii się nic nie zmieniło.