3 grudnia 2012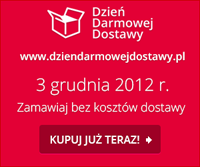 W tym roku Dzień Darmowej Dostawy jest obchodzony właśnie dziś, czyli 3 grudnia 2012. Jest to ogólnopolska akcja, która zrzesza sklepy internetowe i ma promować zakupy online. Sklepy biorące w niej udział umożliwiają swoim klientom zrobienie zakupów bez płacenia za przesyłkę. Koszt ten sklepy biorą na siebie.
Darmowa dostawa dobrze przemawia do osób, które do tej pory nie zamawiały w sieci, ale również dodatkowo zachęca dotychczasowych e-klientów do ponownych zakupów.
Dzień Darmowej Dostawy inspirowany jest akcją Free Shipping Day odbywającą się od 2008 roku w Stanach Zjednoczonych.
Jednym z partnerów akcji jest, jak co roku, księgarnia Selkar. Jest to istotna informacja nie tylko dla klientów sklepu, ale także partnerów Programu Partnerskiego Selkar. W ubiegłych latach sprzedaż podczas tej akcji rosła nawet o kilkaset procent. Oznacza to możliwość złapania wielu nowych prowizji i klientów.