Program Partnerski eBroker.pl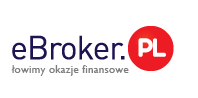 "eBroker.pl to lider na rynku i najbardziej wiarygodna porównywarką produktów bankowych. Codziennie sprawdzamy oferty ponad 40 banków i innych instytucji finansowych oraz porównujemy ponad 200 parametrów różnych produktów finansowych. Współpracujemy z największymi instytucjami finansowymi, by nasz klient miał bezpośredni dostęp do najlepszej oferty." – to są słowa najlepiej opisujące to, czym zajmuje się eBroker.pl. Dlaczego o tym piszę? Ponieważ serwis ten uruchomił swój Program Partnerski, na który, moim zdaniem, naprawdę warto zwrócić uwagę!
Program przyciąga wydawców bardzo dobrymi stawkami i rzetelnym modelem wynagrodzeń – jest to JEDYNY program na rynku, który tak oferuje unikatowe korzyści dla wydawców:
wynagrodzenie za krótki lead nawet 50 zł (lead to tylko numer telefonu!)
wypłata natychmiast na koniec miesiąca – bez czekania na prowizje (jak w innych finansowych PP np. Bankiera)
co miesiąc dodatkowo aż do 15% od zarobków Partnerów, którym polecisz PP eBroker

gratisowe 50 zł

na start – tylko do 31 października 2011, więc radzę się szybko zarejestrować!

Zarobki są oczywiście nieograniczone, próg wypłaty to 150 zł. Według danych eBroker.pl, umieszczenie widgeta na blogu generuje średnio ok. 500 zł/mies.
Gorąca okazja to Polecenia – program dopiero wystartował, a więc właśnie teraz są największe szanse na zbudowanie swojej własnej sieci partnerskiej. Każde 10 poleconych osób może dać ok. 1500 zł co miesiąc – (co miesiąc i na zawsze otrzymujesz 15% od zarobków poleconych blogerów, autorów wpisów na forach itp.).
Jesteś wydawcą finansowym i działasz w Programach Partnerskich? Koniecznie zarejestruj się w eBrokerPARTNER.pl!