1 grudnia 2014
Jakiś czas temu zadzwonił do mnie kolega, którego dobrze znam ze względu na różnego rodzaju współpracę w ramach programów partnerskich. Na co dzień nie mamy kontaktu, więc byłem zaskoczony połączeniem od niego. Okazało się, że informacja, którą chciał mi przekazać jest jeszcze bardziej szokująca.
Dowiedziałem się bowiem, iż otrzymał on maila od swojej firmy hostingowej, która poinformowała go o zablokowaniu dostępu do niektórych jego stron, do czasu usunięcia "niedozwolonych treści". Najdziwniejszy w tym wszystkim był powód takiego posunięcia. Otóż okazało się, że Urząd Celny wysłał pismo, w którym jest zawarty nakaz zablokowania dostępu do danych, powołując się na przepisy antyhazardowe.
Pismo to możecie znaleźć poniżej: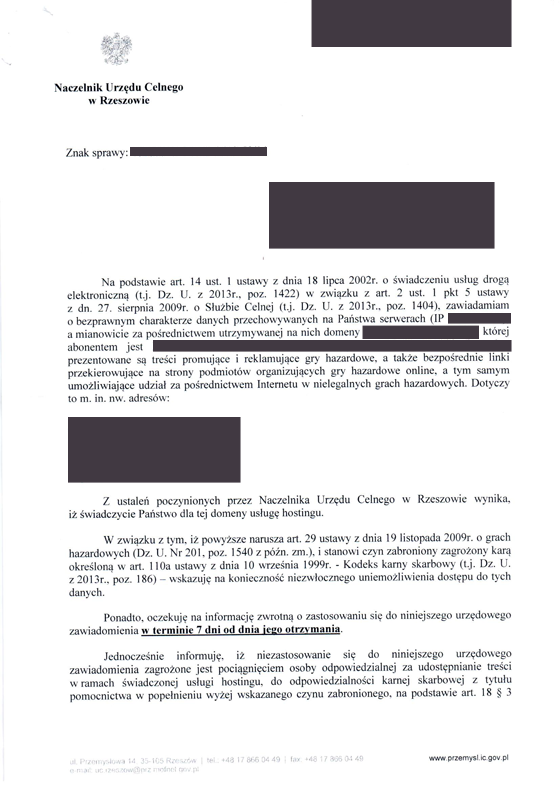 Reklamowanie gier hazardowych w Polsce zagrożone jest mandatem do 3000 zł, a jeśli dojdzie do postępowania sądowego, może to być nawet do 16 milionów złotych kary.
Sam nigdy nie reklamowałem tego typu programów partnerskich, ale pomyślałem, że wielu z Was, może w nich aktywnie działać. Warto też sprawdzić, czy na jakichś starych stronach nie macie umieszczonych "nielegalnych" reklam, bo tak własnie było w przypadku kolegi. Warto tu dodać, że nie można w Polsce reklamować zagranicznych bukmacherów nawet, jeśli strony są na zagranicznych hostingach.