19 listopada 2011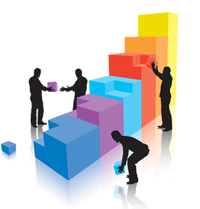 Miałem ostatnio bardzo dużo pracy, do tego doszedł wyjazd za granicę na długi weekend i nie miałem przez to czasu na wiele czynności, które wykonuje na co dzień. Jedną z nich jest odbieranie poczty z jednego z moich adresów e-mail, na który dostaję przede wszystkim wiadomości z kilku różnych, moim zdaniem najciekawszych, newsletterów. Jednym z osób, które się ze mną w ten sposób komunikują jest Piotr Michalak, jeden z najlepszych marketingowców w Polsce. Zaprosił mnie on do obejrzenia nagrania dotyczącego Metody Oferty Horyzontalnej (nazywanej przez niego Zmasowanym Atakiem). Bardzo się cieszę, że w ten sobotni poranek udało mi się wygospodarować trochę czasu, by obejrzeć to około 25-minutowe nagranie i mam nadzieję, że Tobie też się to uda.
Piotr tłumaczy w tym nagraniu, na czym polega Metoda Oferty Horyzontalnej, podaje przykłady, jak była ona wykorzystywana zarówno na rynkach zagranicznych, jak i polskich, prezentuje jakie zyski przynosiła osobom, które ją wykorzystały oraz sugeruje, jak można ją wykorzystać do tworzenia wielkich kampanii promocyjnych.
By zachęcić Cię do obejrzenia tego nagrania, chciałbym Ci podać kilka przykładów wykorzystania Metody Oferty Horyzontalnej:
Internetowy Milioner – Piotr Majewski – sprzedaż szkolenia na ponad 100 tys. zł w ciągu kilku dni,
System Produkcji Pieniędzy – Piotr Michalak – sprzedaż szkolenia na ponad 125 tys. zł w ciągu kilku dni,
Ekspert 2.0 – Paweł Danielewski – sprzedaż szkolenia na ponad 100 tys. zł w ciągu kilku dni.
Dodam jeszcze, że pierwszą osobą z branży internetowej, która opisała tą metodę był Jeff Walker, który stworzył szkolenie "Product Launch Formula". Jeff Walker sprzedał szkoleń z tej serii aż na 20 mln $.
Czy te liczby Cię zainteresowały? Zapraszam do obejrzenia nagrania video w dwóch częściach.
1 część nagrania "Oferta Horyzontalna"
2 część nagrania "Oferta Horyzontalna":