6 marca 2012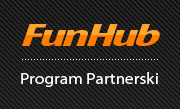 Program Partnerski FunHub jest pierwszym w Polsce profesjonalnym programem partnerskim z grami MMO. Przez profesjonalizm rozumiem dobrze zaprojektowany i funkcjonalny panel partnera, miłą i fachową obsługę oraz szeroki wybór gier i bardzo wysokie stawki.
W chwili, gdy piszę te słowa w Programie Partnerskim FunHub jest 12 najpopularniejszych gier, z czego 5 jest rozliczanych w modelu CPL, a 7 w CPS (revenue share):
The Settlers Online – CPL 1,90 zł
World of Tanks – CPL 1,60 zł
Terra Militaris – CPL 2,20 zł
Rappelz – CPL 4,80 zł
Runes of Magic – CPL 2,50 zł
Khan Wars – CPS 45%
Imperium Stylu – CPS 45%
Fashionstyle – CPS 45%
Street Crime – CPS 45%
Nemexia – CPS 45%
Fragoria – CPS 40%
Wawa Wars – CPS 40%
To dopiero początek! Warto podkreślić, że liczba gier będzie regularnie rosła, docelowo nawet do ponad 100 tytułów. Właściciel PP FunHub, firma Playlink, jest twórcą platformy do dystrybucji gier MMO i MMORPG. Dzięki współpracy z największymi producentami gier tego typu na całym świecie (m.in. Bigpoint, Wargaming, Gameforge) mogą oni zaproponować największy wybór gier oraz najlepsze stawki w Polsce i nie tylko. Jest to możliwe, dzięki bezpośredniej dystrybucji od producenta, bez żadnych pośredników.
Obecnie do wyboru są tylko modele CPL i CPS (revenue share), ale w przyszłości pojawią się również programy partnerskie w modelu CPC oraz CPM a także mieszane, np. CPC + CPS czy CPC + CPL.
Możesz negocjować stawki!
Jeżeli posiadasz popularny serwis www z dużą oglądalnością i możesz zapewnić wysoką skuteczność reklam, możesz negocjować stawki wynagrodzeń dla poszczególnych gier.
Zarabiaj polecając Program Partnerski FunHub
W Programie Partnerskim FunHub można zarabiać również promując sam program. Otrzymasz 10 zł za każdego aktywnego wydawcę. Warunkiem przyznania bonusu jest wygenerowanie przez poleconego wydawcę przynajmniej 5 dochodowych akcji (np. 5 leadów).