24 lipca 2019
Słyszeliście już o jednym z najnowszych programów partnerskich w Polsce o nazwie LeadStar.pl? Jeśli nie, chciałbym Wam dziś przedstawić jeden z najciekawszych i najlepiej zarządzanych programów partnerskich, jakie obecnie funkcjonują w naszym kraju. Dlaczego? Zapraszam do lektury, odpowiedź znajdziecie w tekście.
Wzorowa obsługa wydawców
We wstępie wspomniałem, że LeadStar.pl jest bardzo dobrze zarządzanym programem. Mam tu na myśli przede wszystkim wręcz wzorową obsługę wydawców. Współpracuję z nimi od kilku miesięcy i zawsze jestem bardzo zadowolony z kontaktu z obsługą programu. Zawsze wszystko odbywa się szybko, profesjonalnie i w bardzo miłej atmosferze. W wielu konkurencyjnych programach często trudno jest nawiązać kontakt ze swoim Account Managerem. Sprawę ułatwia też szeroki wybór możliwości kontaktu: mail, czat, skype, telefon a także specjalna grupa na Facebooku.
Bardzo podoba mi się to, że LeadStar.pl poważnie traktuje sugestie swoich partnerów. Odkąd współpracuję z tą siecią widzę, jak ich panel stopniowo ewoluuje coraz lepiej dopasowując się do potrzeb wydawców. Jest to wynik dobrego kontaktu z wydawcami i słuchania ich potrzeb.
Duży wybór kampanii
Kolejnym dowodem na to, że LeadStar.pl jest dobrze zarządzany, jest bardzo szeroka oferta kampanii z bardzo różnych branż. Teoretycznie praktycznie każdy powinien znaleźć coś dla siebie. W ofercie obecnie znajduje się ponad 300 kampanii finansowych, telekomunikacyjnych, ubezpieczeniowych, zakupowych i innych. Kampanie są dostępne w zasadzie we wszystkich popularnych obecnie modelach: CPL, CPA, CPS, CPC oraz hybrydy. Wśród kampanii znajdziesz m.in. takie programy jak:
PLAY CPS
Cyfrowy Polsat CPS
Nest Bank kredy firmowy CPL
Kuki CPS
NetCredit CPS
Vivus CPS
nju mobile CPS
AXI Card CPL
eDarling CPA
Santander Bank konto CPS+CPA
Allegro CPS
PKO Bank Polski konto CPA
Panel partnera
Myślę, że opisując nowy program partnerski warto wspomnieć o panelu, który oferuje swojemu wydawcy. W przypadku LeadStar.pl mamy bardzo przejrzysty i intuicyjny panel partnera. Co ważne, można go dostosować do swoich potrzeb. Bardzo dobrze działa też wersja mobilna, co w dzisiejszych czasach na pewno jest dużym atutem.
W panelu mamy oczywiście dostęp do pełnych statystyk. Można w nim znaleźć liczne kreacje reklamowe do kampanii oraz inne przydatne narzędzia, takie jak widgety, linki symboliczne, pule kreacji, chmury linków, API czy możliwość podpięcia notyfikacji postback. Bardzo przypadła mi do gustu też opcja wykorzystania stron partnerskich (do wyboru aż 6 domen), które są w pełni konfigurowalne (ponad 50 parametrów) i doskonale zoptymalizowane.
Kilka dodatkowych zalet
Aby w pełni nakreślić obraz sieci LeadStar.pl warto wspomnieć o jeszcze kilku zaletach tej sieci:
wypłata prowizji od 1 zł w dowolnym momencie lub automatyczna wypłata zlecana w ostatnim dniu danego miesiąca,
pieniądze na koncie partnera w kolejnym dniu roboczym liczonym od momentu zlecenia wypłaty w panelu (osoby fizyczne) lub nawet w ciągu 2-3 dni roboczych w przypadku firm,
liczne akcje promocyjne z wyższą stawką dla wybranych produktów,
szczegółowe rozliczenia (bieżące informacje o rozliczonych w danym dniu kampaniach),
poradniki dla początkujących, np. o tym jak zarabiać, jak korzystać z narzędzi, jak rozliczać się z Urzędem Skarbowym,
firmowy blog, na którym regularnie pojawiają się wpisy wyjaśniające zasadę działania systemu jak i odpowiedzi na najciekawsze pytania wydawców."
Warto dodać, że w LeadStar.pl jest też możliwość polecania samej sieci innym partnerom. Otrzymasz 5% od zarobków każdego poleconego partnera, na stałe, bez maksymalnych limitów.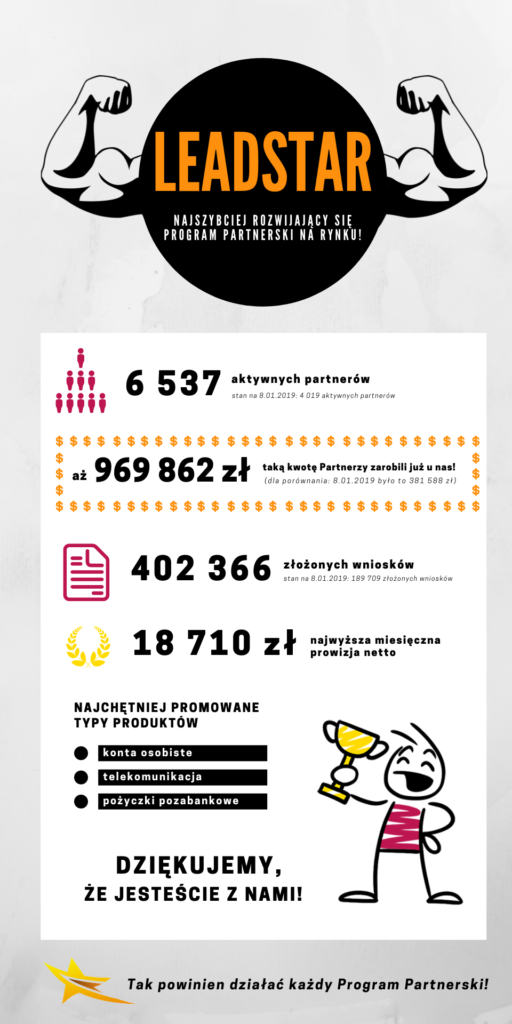 Podsumowanie
Jeśli szukasz programu partnerskiego z bardzo szeroką ofertą kampanii, fajnym i wygodnym panelem partnera, bardzo dobrą obsługą wydawców, to LeadStar.pl jest siecią dla Ciebie. Polecam!