1 sierpnia 2011

Ostatnio przeprowadziłem dość ciekawą dyskusję z jednym z moich znajomych dotyczącą newsletterów/biuletynów. Chodziło dokładnie o to, kiedy najlepiej wysyłać mailing. Zastanawialiśmy się który dzień tygodnia i która godzina jest najlepsza.
Wahaliśmy się czy lepszy jest poniedziałek, kiedy wszyscy po weekendzie sprawdzają pocztę (często siedziąc w pracy i myśląc jeszcze o weekendzie) czy może lepiej wysłać newsletter w środku tygodnia, kiedy ludzie mają mniej maili. Początkowo mieliśmy trochę odmienne zdanie na ten temat, więc postanowiliśmy poszukać jakichś ciekawych artykułów i badań na ten temat.

W wyniku tej dyskusji popartej odpowiednimi materiałami doszliśmy do kilku wniosków:
Newsletter powinien być wysyłany przede wszystkim regularnie. Przyjmuje się, że optymalnym przedziałem czasowym jest wysyłanie biuletynu nie częściej niż raz na tydzień i nie rzadziej niż raz na miesiąc. Jest to oczywiście ogólna zasada i nie przy każdym rodzaju mailingów musi ona znaleźć zastosowanie.
Biuletyny powinny być zawsze wysyłane mniej więcej w tym samym momencie. Chodzi o to, że jeśli do tej pory wysyłaliśmy go np. w środę rano, to nie warto tego zmieniać. Ludzie szybko się przyzwyczajają do pewnych zachowań i później mogą mieć problemy z przestawieniem.
Najlepszy dzień do wysyłki zależy od tematyki i odbiorców danego newslettera.

Jeżeli jest to wysyłka biznesowa do osób, dla których ta wiadomość będzie istotna i związana z pracą to najlepiej ją zrealizować w poniedziałek rano.
Jeżeli jest to wysyłka związana bardziej z zainteresowaniami czy hobby, lepiej wysłać ją np. w środę lub czwartek rano. Dzięki temu nie zostanie potraktowana jak dziesiątki innych wiadomości i nie trafi do kosza czy folderu SPAM. W poniedziałki ludzie często muszą zająć się sprawami najbardziej bieżącymi, które np. nazbierały się w ciągu weekendu i nie mają oni czasu na czytanie takich maili.
Jeżeli jest to newsletter dotyczący jakiejś ciekawej imprezy weekendowej, można się zdecydować na wysyłkę w piątek rano. Wtedy ludzie często planują, jak spędzą zbliżające się wolne dni. Z kolei w weekend wiele osób nie odbiera e-maila i przez to, taki newsletter może w poniedziałek trafić do kosza.

We wszystkich przypadkach pisałem, że maile najlepiej wysyłać danego dnia rano. Dlaczego? Wynika to m.in. z wyników badań przeprowadzonych przez spółkę SARE, która zajmuje się e-mail marketingiem. Okazuje się bowiem, że aż 28% ankietowanych chce otrzymywać newslettery przed 8.00, 19% między 8.00 a 12.00. Tylko 4% woli otrzymywać biuletyny po 16.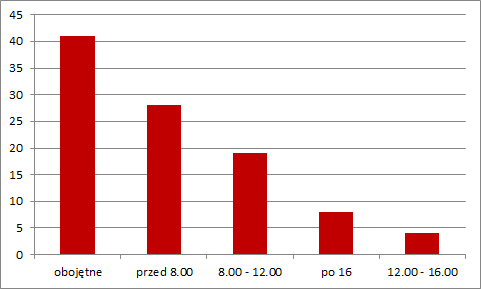 Dodatkowa rada, jaka płynęła z kilku raportów, z którymi się zapoznaliśmy: warto personalizować wiadomości. Personalizacja e-maili polega na dopasowywaniu treści do konkretnego użytkownika. Przejawia się to np. rozpoczęciem wiadomości od przywitania z użyciem imienia odbiorcy. Dzięki temu subskrybenci czują, że są traktowani indywidualnie. Wpływa to pozytywnie na budowanie lojalności i świadomości marki, produktu czy firmy. Ponadto badania pokazują, że własne imię w tytule lub na początku treści e-maila przyciąga uwagę.
Warto dodać, że podane tu przeze mnie rady wynikają z raportów z lat 2010-2011. Co ciekawe, dane z lat 2006-2010 często były zdecydowanie inne. Potwierdza to tylko fakt, że z każdym rokiem zmienia się zarówno internet, jak i tworzący go internauci. Można więc założyć, że tekst, który właśnie czytasz, za 4-5 lat będzie już kompletnie nieaktualny.
A Ty kiedy wysyłasz swoje mailingi? Jak jest ze skutecznością?