18 lipca 2011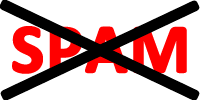 Prowadzisz bloga lub stronę i w ostatnim czasie zauważyłeś, że każdego dnia dodawane jest kilkadziesiąt albo nawet kilkaset komentarzy, które są zbiorem linków lub bezsensownymi anglojęzycznymi wypowiedziami? Jeżeli tak, to znaczy, że Twój blog jest atakowany przez SPAMujące roboty, które dodając różne komentarze próbują pozycjonować inne strony. Jeżeli prowadzisz moderację komentarzy, to z pewnością po kilku dniach kasowania SPAMu zaczniesz szukać odpowiedzi na pytanie: Jak zapobiec zaSPAMowaniu bloga?
Sam od kilku dni borykałem się z takim problemem na jednym z moich blogów, więc postanowiłem odnaleźć odpowiedź na to pytanie. Wiedziałem, że powinienem szukać pod hasłem "CAPTCHA", ponieważ już wcześniej wiedziałem o skryptach, które pomagają walczyć ze spamem, ale do tej pory, nie miałem takiej potrzeby.
Czym jest CAPTCHA?
Wikipedia podpowiada, że CAPTCHA (Completely Automated Public Turing test to tell Computers and Humans Apart) to rodzaj techniki stosowanej jako zabezpieczenie na stronach www, celem której jest dopuszczenie do przesłania danych tylko wypełnionych przez człowieka.
Przykład CAPTCHA: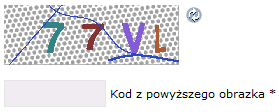 Technika CAPTCHA chroni m.in.:
formularze – przed spamem
portale – przed zakładaniem kont przez automaty
fora dyskusyjne
usługi Whois – przed automatycznymi zapytaniami
blogi – przed reklamami w komentarzach
Najlepsza antyspamowa wtyczka do WordPressa
Bardzo szybko trafiłem na wtyczkę SI CAPTCHA Anti-Spam, która była dość dobrze oceniania przez użytkowników. Instalacja i konfiguracja tej wtyczki zajęła mi dosłownie minutę. Do najważniejszych opcji wtyczki należą m.in.:
wybór miejsc, gdzie zabezpieczenie CAPTCHA ma się pojawiać (do wyboru: formularz logowania, formularz rejestracji, odzyskiwanie hasła, dodawanie komentarza),
ustawienie, czy CAPTCHA ma się pojawiać dla zarejestrowanych użytkowników,
poziom trudności zabezpieczenia CAPTCHA (polecam Medium – przy wyższych mogą być czasami problemy z odczytaniem niektórych znaków).
Domyślny sposób wyświetlania wtyczki jest w porządku. Jeżeli jednak uznasz, że wolałbyś trochę go edytować, możesz to zrobić w bardzo prosty sposób, gdyż wykorzystuje on style CSS. W ustawieniach wtyczki możesz też zmienić poszczególne etykiety pól.
Podsumowując, wtyczka SI CAPTCHA Anti-Spam jest bardzo potrzebnym i ułatwiającym życie narzędziem. Z pewnością należy do najlepszych wtyczech do WordPressa. Jeżeli masz dość walki ze SPAMem, to powinna ona rozwiązać Twój problem.